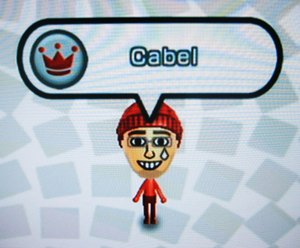 So, I excitedly collected my Nintendo Wii last Sunday, sometime around midnight, joining a lovable rag-tag group (Panic and Otherwise, even my sister came along for "fun") at our wonderful Pioneer Place ElBo. (Entering the mall at midnight is unsettling — as Steve noted, it was hard to shake the feeling that a horde of hungry zombies was waiting right around the corner! "Year!"). Nick, Manager Of The Year in my heart, cheerily greeted us at the door, we all waited in line for a bit, an awkward but nerdfelt countdown began, Steve cut in line, and then we all went home with our magic boxes and slept.
I should note that before even receiving the system, I was struggling with how to cover it here: I could do an elaborate video review, which lord knows would be fun, but it's a much harder thing than a Nintendo DS to "film" in a satisfying way, particularly when your professional video solution is a tiny digital camera. And sure, I could also take lots of pictures and short screens of the menus and such but, really, is there anything you guys
don't
already know about this system? I mean, really. So, I was stumped.
Then fate stepped in:
my Wii broke.
Stop laughing. Almost immediately, it stopped ejecting any DVDs. Actually, it only successfully worked once. Zelda is now forever stuck inside the system. It's not the physical eject button itself — pressing it will instantly wake up the system when first plugged in — but rather, I'm assuming, the slot-loading drive mechanism. It just doesn't want to eject. I can't eject. No eject.
You might say, "Cabel, surely having a permanently-Zelda gaming system for all time is not the worst of fates!", and you'd be mostly right. But you must know me — I couldn't comfortably play the system knowing in the back of my mind that it's broken and, eventually, I'm going to have to send it in. Stress.
Thus, my Nintendo Wii has been sent in for repair.
I shipped it overnight (hooray, it fit in a FedEx box, with room for bubble wrap!), and Nintendo received it on Tuesday — 11/21/06. That's right, two days after launch. Yes, I'm crying as I type this. As of yet, there's been no status update on how the repair is going, which does not instill confidence. 12 days was the maximum quote, and I'll keep all of you posted. This should be an interesting test, if nothing else.
What I Can Tell You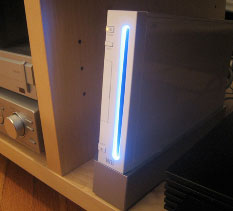 While my Wii is being lovingly and gently brought back to life (snek snek!), I might as well throw out my first impressions into the great overflowing sea of internet bullhonkey.
There's only one negative. Owning an Xbox 360 and an LCD TV has kind of ruined me for high definition signals, and I do wish the Wii could go higher-res, any native widescreen signal will do. It's not even so much while I'm playing a game, to be honest, but the freakin' text — the menu text, the Wii Shopping channel text, etc., all blurred out and fuzzy and faux-squashed at the source and re-stretched on the TV. It's not really Nintendo's fault, as I completely understand why they did it, and it's way easier for me to blame Microsoft for supporting these damn high definition signals,
bastardos
. Still, I dream, and I'm sure I'm not alone.
Other than that?
I haven't had this much fun playing a game console since my parents drove up in the station wagon to pick my sister and I up from school and pulled back a blanket in the back seat to reveal a shiny new Atari 2600 that we played non-stop for months and months and that my grandmother (bless her sweet soul) continuously referred to as "The Guitari".
Everything about this system is a joy. The controller is so stunningly natural as a pointing device, and as a gaming device, and is so comfortable to hold with such great build quality and industrial design that it really does feel like you're
using the future
. On-screen typing is fast, navigating the menus is instant, everything just flows and pours from your hand into one screen to the next.
We spent hours — really, hours — just screwing around with creating our
Mii's
(tell me, why is this fun!?), then sending them to our friends and writing funny notes to each other over the internet, then using the photo browser to pop in memory cards and so very very quickly checking out our latest photos, then decorating said photos with goofytarded drawings and also sending them to each other, and all of that good stuff. And we hadn't even played a game yet.
Of course,
Wii Sports is a genuine killer app
, and the perfect pack-in title — the only title for the system that really makes good on the promise of what we might be experiencing consistently a year from now. Sure, the sports games are dead simple, and sure, they're about as "hardcore" as "Barbie Horse Adventures II: Totally Horsin' Around Specifically In A Paddock". That doesn't stop these games from being
freakin' fun
. Bowling is the true star here. Mike gets very serious when he plays. I like the tennis.
Zelda
— well, the first two hours, anyway, before I sent the system back :( :( — suffered a bit from some janky game design in the opening tutorial town (who fished what with the slingshot in the monkey basket now?), but once I was running through a field, swinging —
swinging
my sword, instantly aiming my slingshot, defeating weird enemies, and getting a touch of that Zelda Magic, I knew it was going to be amazing, and it makes this damn repair all the more unbearable.
Put simply, this system is pure fun in a beautiful tiny box.
The Help Cat

Everything beautiful about the Nintendo Wii can be summed up in one embodiment:
The Help Cat

. Living deep within the Photo Channel, this is my 2007 vote for the greatest, weirdest, most terriblewonderful User Interface Design idea of all time —
contextual help you have to catch
. Something about this is so totally Nintendo, totally ridiculous, and totally a great use of the Wii Remote. While we're easily amused, make no mistake, people:
we spent five minutes having fun just trying to catch a cat that gives you help
. What more can be said about the Nintendo Wii?
So, here's hoping my Nintendo Wii comes back from repair soon, at which point I'll get down to some serious winter time Zelda gaming.
Until then, I'd love to hear what you think of the system — I'll live vicariously through your vibrant tales.