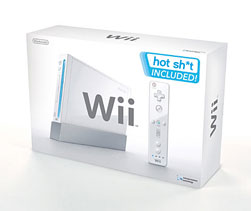 What a week for things! Today, the Nintendo Wii details were finally announced, after much anticipation, and the system looks more awesome and amazing than even I had hoped. For posterity, I thought I'd gather up all of today's exciting Nintendo Wii news in one place, in super compressed bullet point form. I'm sure you've read all of this already, but hey, here it is, a day that will live in hotness!
November 19th - Very slightly after Sony's theoretical launch


$250 bucks - Given that I just bought a TiVo for $800, it's like they're giving me money


25 games at launch - Some of which I'll probably actually buy.


Wii Sports Packed-In - Which is awesome, even though all pack-in games are doomed to forever Wise From Your Gwave


"Nunchuk" Controller Included - Extra 'chucks are $19, remotes are $40, and the Classic Controller is $15


Zelda at Launch - Do I need to say anything else? Widescreen to boot. Instant get!


4 million planned to ship - Versus Sony's estimated 2.6 million. (Personally, I doubt they'll ship 1 million.) Will be an interesting holiday...


Mario in 2007 - Razzle frazzle. Be patient, Sasser.


30 Virtual Console Games - At $5 to $10 each, with ten or so added each month. Hot companies on board!


Innovative "Wii Channel" Menu System - You've got to see this. Using a TV guide-like metaphor that theoretically anyone can understand. Includes Photos. Weather. News. Sirs and madams, this is fascinating stuff. Watch these movies, many pages! Read more at IGN!


Opera Browser Included - Free download. Supports Flash! But only free until June 2007? See it in motion here.


Mii Channel Customizable Avatars - Another very interesting idea for a highly customizable, but still cute, online identity


Region Free - By default. Guaranteed with first party titles. Strongly encouraged for all. This is huge news. MPAA, are you seeing this?


Metroid Prime with PC-like "Expert Mode" - Very exciting. You must read this IGN article about it.


Wario Ware Wii - Makes me tear up with joy to look at these screenshots.


Big Brain Academy Wii - A welcome, but obvious, surprise. See a video
Finally, a little photo gallery of the final hardware, to whet your virtual whistle, or "V-WHISTLE":
So, did I miss anything good? What do you guys think about today's news? Good? Bad? And are you as excited as I am?
(And who's getting a HOT HOT MICROSOFT ZUNE? Wa-wa-wee-wah! It comes in brown!)