On a brief road-trip up to Olympia, Washington yesterday, we stopped at a friendly Arco station to, well, get some gas, but also look for weird c-store snacks. Of course.
While there, I spotted this pretty classic bit of Human Interface Design at the payment station: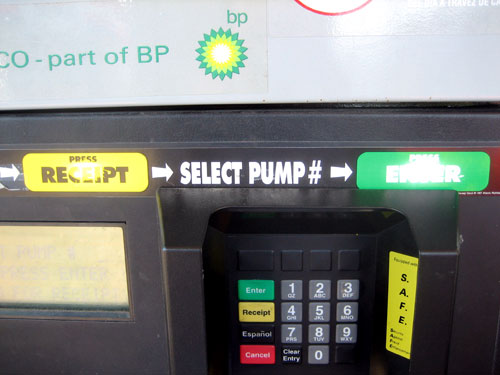 The instructional sticker, placed on the pay station, is valiantly attempting to explain to people how to pay.
But, as you can see, instead of pressing the actual Enter/Receipt buttons, immediately below the instructions, people are desperately
pressing the instructional sticker itself.
(And not just once or twice — often enough that the printing has been almost completely rubbed off!)
Seriously,
see it up close.
And it's
both sides, too
.
While we could/should chuckle at zany dumb people — oh, heck,
go on
— I blame the designer. The fact that they needed to add a sticker in the first place should have been an immediate red flag that the overall design has fundamental problems. Consider alternatives quickly: is the LCD screen the problem? Is it hard to read? Since it can't be made higher because of ADA access, can it be made clearer, or more graphical and less textual, with better instructions? Can they use voice prompts ("now press the green enter button") tied to a big blue "help" button? Better yet, how about replacing the whole screen/keypad combo with a much-friendlier single touchscreen?
Still, even if they missed the dire "let's use a sticker!" klaxon, here's a good rule of thumb: don't make your instructions significantly easier to see / parse than the
actual interface you're trying to explain.
:)
Interestingly, this kind of stuff applies to software UI design as well. Any time we find ourselves having to over-explain a control, or hope that people read the documentation, or pray they stop and smell the tool tip, we'll usually back up and completely rethink what we're trying to do.
Regardless: hooray for people!
(For what its worth, someone at this gas station didn't like the
Spanish instructions
very much, either.)