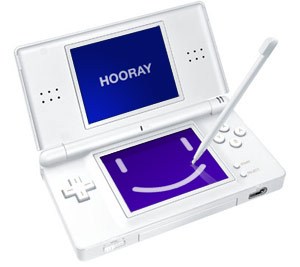 Dear Readers,
Sorry for the post-E3 tumbleweeds around here. For what it's worth, I spent a couple of weeks in Japan, and then got sucked back into my (exciting) Panic-related work upon my return. Returning from vacation is, as they say in China, like putting a mouse on a frog on a cat on a cock (rooster) — a delicate balancing act, to be sure!
Anyway, I'm back, a ton of stuff is going on lately, and I have a lot of topics to post about in the coming weeks — including stories, photos, and movies from Japan!
Enough about me:
Today, if you didn't know, was the
Nintendo DS LIte USA release day
!
So, after all my hullabaloo, I feel obligated to ask:
did you get one?
How'd it go? Is it everything you thought it would be? Are you disappointed in any way? What do you think of that death backlight? Etc. etc.
Let me know! Post a comment! Tell your story!
While doing a bit of shopping today I tried to poke in and check availability around the Portland area. Our local Fred Meyer was sold out, but the really bizarre Best Buy near the airport seemed to have quite a few sitting on the shelves! I guess that's... good? Did you have any trouble finding yours?
(PS: And for no obvious reason, here's my layered
Photoshop File

for the above graphic. Drop in your own screens! Shadows/higlights are free!)