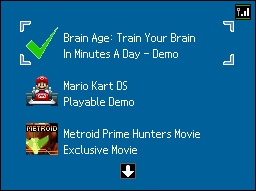 Recently, Nintendo began rolling out
Nintendo DS Download Stations
to a variety of retail stores. The idea is simple: you stroll into your favorite store, avoid the strategy guides at all cost, flip open your Nintendo DS, and quickly and easily download one of many Nintendo DS game demos into RAM over WiFi. Heck, you probably don't even need to go
in
the store at all. Then, as long as you don't turn off your DS (hooray, sleep!), you can enjoy — or not enjoy — a free game demo. Nice idea.
So, when my local store got their mysterious white Download Station, I was intrigued and excited, thanks to a life-long instinct to always,
always
want to see what's inside the box. So, what magical Wi-Fi game distribution technology could be waiting inside?
Was it a dedicated tiny PC? A souped-up wireless router? An exhausted, drunken leprechaun holding magic leprefoil?
Nein. It's just, perhaps unsurprisingly, a Nintendo DS.
I realize I may be the only person on earth to find this interesting. So don't even bother bustin' my chops!
(And yes, my final DS Lite video review — not that there's much left to talk about, but hey — will drop on Monday!)