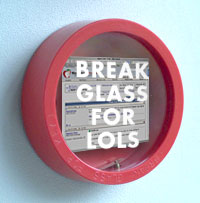 It's true, the
iPod Hi-Fi
won't change the world. And the new
Mac Mini
, although really quite nice, is a predictable revision.
But anybody who knows Apple should know to pay attention to the little things. From the careful announcement phrasing — "fun" new products — to the very small-scale venue, it seemed pretty obvious that this was not the day that Apple will announce the Power Mac Hover Book Tablet Phone. (Which I can 100% confirm is real.)
That doesn't stop the "sell your Apple, it's all over!!!1" threads. And while it's marginally unfair to those threads, every time I read them, and the cyber-freakouts within, I can't help but do one thing:
I bust out Thread 500.
Enjoy.