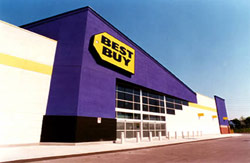 My recent post about Best Buy Mystery Numbers seems to have traveled far and wide. Cool! As the British say, that post "slapped the crown right off the queen" — created a surprising amount of high-profile attention!
So, hooray for blogs! Thanks to those of you who linked it. It's nice to know that some people might also find interesting the extremely dumb things I find interesting. (It's comforting, really.)
Questions Answered
A user posting on
Digg
filled in some of my missing blanks. In regards "product service/replacement plans":
"A PSP number of 2.22 means 2.22% of dollars spent [are] on PSPable items, so if the store sold $20,000 of items that offer PSP's, they sold $444 worth of PSPs."
Additionally, regarding how shrink works:
"The shrink number of .26 means that they have [lost] .26% of total sales for that period, if the store sells $2,000,000 of product in the 6 month period, the .26 means they lost $5,200 in that period no matter what the reason (stealing, broken products etc.). Another reason they give to CS reps not to let people return product after [the manufacturer's return] period, if you talk a manager into letting you return something after 30 days, the [manufacturer] will not accept it and it's supposed to get thrown away at a distribution center, which hits your shrink."
Thanks, Shane-Z. I had no idea.
Comments Lost
The story also brought out employees of all shapes and sizes
who commented on the post
. Some (mostly) fascinating anecdotes about the world of retail were revealed, and it's worth at least skimming. Thanks to everyone for taking the time to comment!
However...
that said, a minor "incident" with Blogger caused a whole batch of comments to pipe directly into the great binary toilet. I.e., they got deleted. Fortunately, I got e-mail copies. So, I'll re-attach all of the "lost comments" to this post!
If you'd like to hear those (lost) stories from the front line,
click on!
And thanks again for reading...