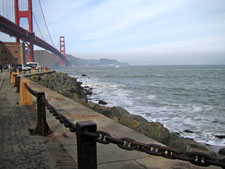 As part of our
Apple Design Award
prize last year (hooray,
Transmit
team!), we've been given a small kiosk at this year's
Macworld Expo San Francisco
.
While our general rule is to never exhibit two years in a row — it's not only expensive, but exhausting! — we're not about to turn
up
down a free booth. The entire crew will be down until Wednesday, and Steve and I will be staying until Friday. Hopefully, it'll be mellow, just hanging out with our award-winning peeps, chilling next to the Gaming Zone (?), answering your questions about Transmit and stuff and, yes, showing a sneak peek of the next update to Transmit.
Yes, we'll also have a (small) handful of shirts to give away. Just stop by and say hello.
MWSF, Booth #2407
, all the way on the right. See you there.