After a few months of having an Xbox 360, last week it kicked the proverbial white-and-chrome "inhaling" bucket.
Of course, Microsoft hand-crafted my particular error message for maximum comedic value. See for yourself: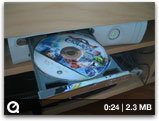 Yes. Every time I put an Xbox 360 game in my Xbox 360, a message comes up: "Please put this disc in an Xbox 360."
1
The yay: I shipped out my Xbox 360, they got it on Tuesday, and I got a completely brand new one on Thursday.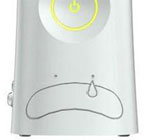 The boo: as my Xbox 360 was completely replaced, so was the hard drive, thus losing all of my save games and plunging me into a "do I really want to re-play that?" zone of anguish. Why invent snap-off hard drives if you don't, y'know, snap them off? "Oh, somebody really should have told you to keep the hard drive," noted Microsoft support. Yes — yes.
So, hooray for Microsoft and Microsoft sucks, simultaneously, as always. (And, at least, thanks for the error
roflcopter
.)
1 After some head-scratching, it turns out that every Xbox 360 disc has a DVD-Video portion, just in case Grandma Scuttles thinks Call Of Duty 2 is a hilarious Pauly Shore caper and puts it in her DVD player. The short video, above, will play, making it clear it's not a movie. For some reason, my Xbox 360 is only seeing this DVD-video portion, and not the game data itself, so it's playing the disc as a movie. Phew.