You ever noticed the big weird numbers on the wall at Best Buy?
They're usually just to the right of the exit, by the registers. They're yellow. Of course they look like goofy price tags. And they're just up there on the wall, for everyone to see. Some stores have only one or two sets of numbers, while some have quite a few. And they look something like this:
Well, let me tell you — if you put numbers on a wall of your store, with no clear indication of what they mean,
I will go insane and become obsessed with them.
It's just how it works!
Seeking meaning, I started occasionally asking "so, uh, what are those numbers, anyway?" when I checked out. Usually, I got the shrug-and-sigh double-punch. But sometimes, I got an interesting answer. And, eventually, it came together, helped tremendously by a conveniently annotated store — as well as some serious Googling.
Thus, I present to you, dear reader, a Best Buy Wall Number display — annotated!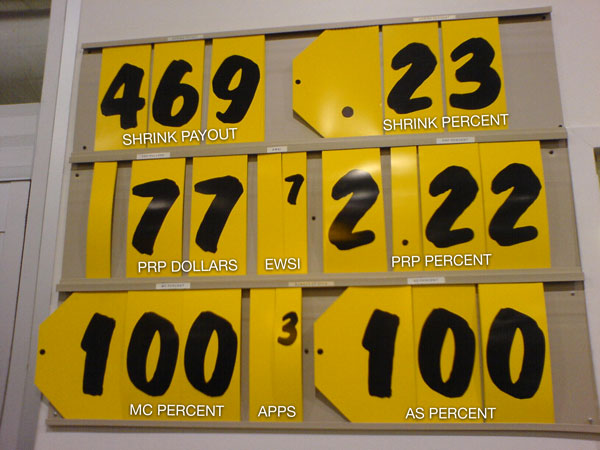 Let's start at the top! (Feel free to correct any of this if you actually work for Best Buy)
Shrink Percent:
Ahh, shrink. You probably call it "stealing". And this store is doing pretty good with handling it. The shrink percentage is, presumably, the percentage of Best Buy merchandise that is simply prancing right out the door. A shrink percentage of .50% is,
apparently, bad news
— so this store is doing pretty well.
Shrink Payout:
Keep shrink low, and the shrink payout increases! Well, I have no idea how this shrink payout ($469) is distributed to employees (anyone know?), but I'd wager it winds up being a few extra dollars in your paycheck every now and then.
PRP Dollars:
That's right: the dreaded product replacement plan, also known as the extended warranty nobody ever buys. Or do they? On this day, they've made a pretty impressive $77 (of almost-all-profit) on product replacement plans. Wow.
PRP Percent:
That means that people bought the product replacement plan 2.22% of the time. Apparently, this isn't so good — the other store (pictured above) was rockin' a mighty 10.50% on the PRP. Wow again.
EWSI:
I like this one. Extended Windows Sales Initiative? Enhanced Wireless Secure Internet? Nope, it's better — Entertainment Weekly / Sports Illustrated! That's right, good old magazine subscriptions! You know how Best Buy always
asks you if you want a subscription
when you check out? Well, on this day, the pitched worked seven times. As hard as it is to comprehend that the alleged
$12 dollars Best Buy makes
from each subscription is worth the semi-uncomfortable sales pitch, I don't have to answer to any shareholders...
Apps:
Simple. Best Buy credit card applications. Looks like three have been filled out and turned in so far.
MC Percent:
Master Card. Yes, every Best Buy card application includes surprise bonus offer for, uh, a Master Card. Yeah, it's two card applications in one, and this store has successfully up-sold the card 100% of the three times.
AS Percent:
Account Shield is another Best Buy card up-sell option. Apparently a unemployment-protection feature that might generate
$65 profit
for Best Buy, it seems, at least in this store, people took it.
So that's it! The great, one-person-cared mystery has been solved. The next time you're at Best Buy, keep an eye out for these numbers — perhaps useless, perhaps interesting, but always telling, I hope they give you insight into your store, your neighborhood, or even America itself. Although probably not.
Highest shrink percent photo wins a prize! ;)
Bonus Best Buy True Shrink Story
Exiting a Best Buy store once, a small kid leaving in front of me triggered a flurry of furious beeping. Sheepishly, he turned around, slowly, as the loss prevention guy asked him if he might, you know, just in case, have any products on him. The kid's answer was theft-zen beauty: "Oh... I must have accidentally put that movie in my pants."