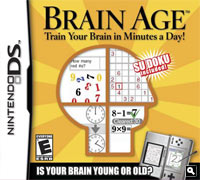 Start your brains: Nintendo just announced that Brain Training is coming to the USA. It's now called
Brain Age: Train Your Brain in Minutes a Day
, and
according to the press release
, it drops on April 17th! Better still, the second game, now titled
Brain Flex
, is scheduled for May 30th.
"Young or old, everyone looks for ways to get a mental edge," says Reggie Fils-Aime, Nintendo of America's executive vice president of sales & marketing. "Our brain-training series, led by Brain Age, builds on the popularity of word and number puzzles and acts as a treadmill for the mind."

Nintendo's brain-training series of games represent a cornerstone of Nintendo's aim to expand the world of video games to new audiences. The second title in the series, Big Brain Academy (known as Brain Flex in Japan) offers players 15 fun activities that test their brain powers in areas like logic, memory, math and analysis. Up to eight people can play with a single game card, and each activity takes less than a minute to complete.

Brain Age: Train Your Brain in Minutes a Day is rated E for Everyone and launches on April 17. Big Brain Academy is Rated E for Everyone and launches May 30.
Will it catch on like it did in Japan? Will it cause the Nintendo DS to reach a whole new generation of gamers in America? Or will it generate a million virtual crickets and digital touchscreen-tumbleweeds? It certainly doesn't hurt that Nintendo plopped a big "SU DOKU Included!" violator right on the box — now that's genius.