I'm a serious, hopeless magazine addict. In fact, I'm terrified to stop and calculate how much I spend on magazines each month — because I might suffer sudden, explosive heart failure.
So, I was very interested to get a promotional e-mail for Time-Warner's new
Maghound
service ("The magazine lover's best friend!"), for which you pay a fixed fee per month for a fixed number of magazines, and you can swap out and change the magazines at any time, like a super-flexible multi-magazine subscription. It's almost Netflix-Meets-Magazines, in a seriously-bad-comparison kind of way.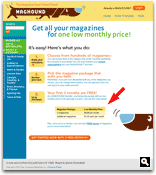 There's only one hitch: I showed the site to a friend, and he got completely different pricing than I did. Like, totally different. And it was consistent — a page refresh gave the same pricing again.
Curious, we pulled up the site on four different computers here at work, and — yes — got four completely different prices!
Seemingly, they're trying to determine which pricing model is most popular, in real-time...
So, magazine freak beware: if you're considering trying out Maghound, I encourage you to try it on a few computers before you sign up, to play a brief game of pricing roulette. (Or, presumably, you could clean your browser cookies between visits, depending or not on if they tie your offer to your IP address...)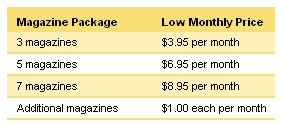 The first chart we got. Lower monthly fees overall.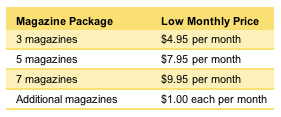 The second one. $1 more all around!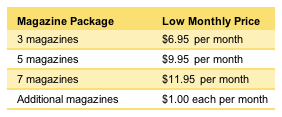 Third try. Much more expensive: $3 more!

The chart I got from clicking the e-mail link. You want this one!
PS: Also a deal-killer: no computer or video game magazines available at Maghound? Boo!
PPS: I promise not to only ever write about pricing/retail/sales mysteries. It's just a phase! A phase!