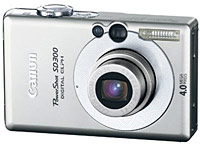 Ok, so it's not really a secret. At all. In fact, I learned this "trick" by reading the Canon PowerShot SD350 manual. (In bed.) That said, none of my PowerShot-owning friends knew about it, so... BLOG POSTIN' TIME!
As the Germans say, this little trick is "like a moustache on a milkmaid" — an unexpected surprise for those who look closely!
1. Hold down the Func/Set (center) button while pressing the Power button.2. That's all.
You'll get a magical clock! But here's where it gets cooler:
Gently shake the camera (or, on newer models, press forward/back buttons) to change the clock color!
Rotate the camera to orient the clock horizontally or vertically!
This works on almost all modern PowerShot [SD] models. I've tried it on an SD300 and an SD450. On other models, including the SD10, SD20, and SD30, it's a little different — you power up the camera and hold down the Func button for two seconds. Read your manual and let me know how it works for yours!
And that's, er, it. If you have a PowerShot, give it a try. Exciting? Pointless? Old news? Or generally uselawesome / awesless?
Like it or lump it, one thing is for certain: the clock can change colors.