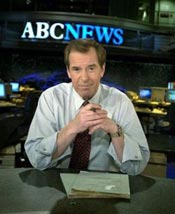 Dun dunnnn dun-dun! Dunnnn dun dun-dun dun-dun!
You've heard this theme already. I know you know it — assuming you live in the USA. Bob Israel (who also worked on music for The Price Is Right) wrote this famous "umbrella theme", used for everything from 20/20 to Nightline, also a convenient audio signal that
extremely boring television
was about to come on when I was a kid.
But have you ever heard the
full version
of the theme? Did you know it got
awesomely funky
?

ABC World News Tonight.mp3 (970 KB)
Yeah! I know! I was as suprised as you were. Tip of the ear to
Jake Rodkin!