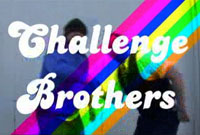 About a week ago, Mike came to me with a musical request: a brief theme song, in classic/cheesy/great 80's TV style, to be used in an Ultimate Blogger 2 challenge video. Awesome.
That night, I struggled to find the right melody — everything was either too Power Ballad or Perfect Strangers. Then, the mystic power of the brain kicked in and I woke up the next morning with a solid theme waiting to escape. I fired up GarageBand, played like a maniac, and recorded it in about an hour, just like your glasses.

ChallengeBros (w/vocals).mp3 (730 KB)

ChallengeBros Long (Karaoke).mp3 (941 KB)
On the left, the final song with (questionable) vocals as featured in the video. Then, just for you, the original longer version, Karaoke style. I'm not traditionally great at sharing this kind of stuff — but I do hope you enjoy it.
Don't forget to
watch the challenge video
itself!
(Also, if you have iLife '06 GarageBand, here's an extra special treat, remix-ready.

ChallengeBros.band.zip
)