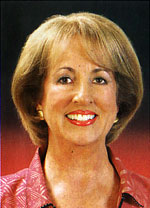 Wow, what happened? Last thing I knew, I was flying to Austin to be a
panelist at SXSW
— an awesome experience and genuine honor for which I owe Rands and the other panelists many thanks — then I return to work (which is a little more intense than usual) and BAM it's all weeks later up in here!
Before you ask: yes, I
am
preparing a (final) Part Three of my DS Lite video review series!
But today, I'm here to talk about Harriet Carter.
I have no idea why I get
her catalog
in the mail. The primary focus seems to be novelty clocks, trains, pets, pet mobility, relief, convenience, and old.
But it's
totally awesome
. You should order it! Most importantly, the pictures are incredible: sometimes illustrated, sometimes photographic, surreal, amusing, bizarre, and often terrifying. When stripped of the accompanying item description, even more so.
So, dear reader, I present to you: my favorite Harriet Carter catalog items/illustrations.
(PS: If you're wondering what to get me for Christmas, might I suggest a freaky-ass tree-face?)