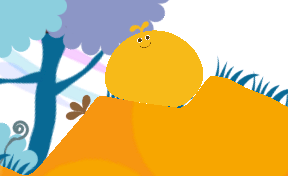 I swear I did not intend for this to be a gaming-only blog — maybe it's just an exciting gaming time? I've got other stuff to talk about, too! Ah well. Here are three miscellaneous gaming tidbits I wanted to mention.
LocoRoco Joy
Holy wow. I haven't felt such genuine "fun" playing a game in a very long time — probably not since Katamari. Have you played LocoRoco yet? If you own a PSP, and you've upgraded to the 2.70 firmware, download this
free demo
, and place it on your Memory Stick in PSP > GAME > UCJS10041. (You'll have to make that folder. Japanese instructions
here
.)
Watching my happy yellow blob merrily sing the (very catchy and great) in-game music, then hitting the "break apart" button and having 15 tiny guys pop-out and start singing the same song in three part harmony, instantly ranks as one of my top gaming moments. Watch
"Bits of Blob Fun"
!
VS. Brightness Bros
To gently address the concerns of the latest e-dingus over my DS Lite vs. PSP brightness comparison —
the PSP screen wasn't white! if it was white it'd blow the DS Lite out of the water!
— I will only present to you
my final thought
on the subject, in pure white. I assure you no witchcraft or ancient german sorcery has been performed here: check the
raw file
.
Wiird
By now, you've likely
heard all about Wii
. In general, I'm not a fan of your Viiv's and your Wega's. And, sure, it's joke-packed and awkward for now. But, my friends, I'll tell you this: having lived through some initially-awkward names in my life ("Mac OS X" springs to mind), I know that, eventually, it'll settle in, we'll all be at peace, and it really won't be all that bad. I think.
Chris Morris
has more on the topic. First, though, we've all got to collectively work through the snicker-zone — particularly here at the Panic office.
(One last note for the curious: here's what your bandwidth looks like when a video post gets Dugg! Ka-zow!)