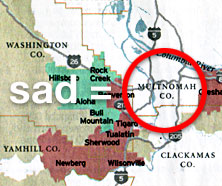 So, Verizon has this
internet service called FiOS
, yeah?
Wikipedia
has all sorts of delicious details. It's technically "fiber to the premises" (FTTP). But in my mind, it's known as AWESOME TO THE PREMISES. It's fast, affordable, and makes me cry each night before I go to sleep. The problem? I can't get it here. But if I lived about 10 minutes away, I could. Let me explain.
At the risk of sounding like an infomercial, here's the low down: FiOS' basic "tier 1" service plan offers incredibly solid speed: 5 Mbps down, 2 Mbps up, for $39.95 a month.
Now, first, please understand that I currently "experience" 0.384 Mbps upload speeds here at home on my Comcast connection, and, to get extremely technical, it sucks mega dong-beans. So, in this case, I'm mostly excited by the upstream speed: 2 Mbps up would be glorious. Second, it's worth noting that the entire Panic office currently shares a single 6.0/768 Speakeasy DSL line, and we pay a
whole
lot more than $39.95. So, already: Tier 1 FTW.
Now, what about Tier 2? Oh my stars and garters.
Tier 2 is 15 Mbps down. And 2 Mbps up. For $49.95 a month.
$49.95
. 10 times the speed of a T1!
The good news? It's available in my area! The bad news? That means everywhere in my area
except my exact area
. Portland. You know, the city.
See that graphic up there from The Oregonian? I live right in the middle of that "white circle of sadness". Those other colored areas are where Verizon FiOS taunts me all around, yelling and poking and scraping me with razor-sharp shards of fiber, downloading terabytes of internet magic in seconds and then just dragging it all into the trash just to spite me.
The problem? Essentially, Qwest. SURPRISE!
As The Oregonian's Mike Rogoway recently wrote: Multnomah County is Qwest territory, Verizon is not about to mix it up in Qwest-dominated land, and Qwest is basically broke. So, we have no competition, and no hope for Qwest to offer hot new services. Our local non-cable choice? Qwest or nothin'. I mean, even death row prisoners get to choose a last meal, which, really, is a totally irrelevant comparison.
Why doesn't Verizon go head-to-head with Qwest? As I understand it, when Ma Bell was broken up, the Baby Bells were all granted regional territories. And with the territories, came the networks, all built out and ready to go. Qwest got Multnomah County, but they don't "own" Multnomah County. In other words, there's nothing preventing Verizon from entering Multnomah county, except for the incredible cost and overwhelming difficulty of building an entire network, in a city,
from scratch
— every last central office, foot of cable, and line of fibre. So, while nothing's stopping them, really, everything is stopping them. Which is a great place to be in, if you're Qwest.
So, Verizon, I implore you, in the optimistic fever of an impossible dream: expand to Portland! Build out your network! I'll help you hook it all up! Damn the cost! Run the wires! And give Qwest a good old fashioned run for their money — which you'll totally win, hands down, in a matter of minutes. I think you'll be surprised by the results.