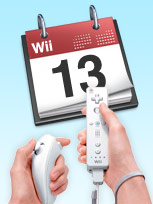 Friends and Nerdy Internet Companions: it's on. I just got passed the official word from corporate that your neighborhood
Electronics Boutique and/or GameStop
will officially be taking pre-orders for the Nintendo Wii on
Friday, October 13th
.
I.e., for most of you, tomorrow.
It's 100% first-come, first-served. And each store won't know how many they'll actually be able to sell until that morning. Awkward, sure — like some kind of goofy Price Is Right game. But without any crazy-skinny microphones.
So, what'll it be? Will you stand in line on Friday and put down a interest-free loan to guarantee yourself a solid Wii? (Shut up, Steve.) Or will you "risk it", and bank on a piece-of-cake launch day Wii-nanza at all of your favorite b-list retailers?
Who cares! See you at Pioneer Place!