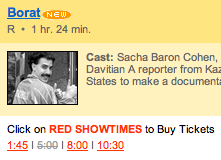 On Friday, the west-coast regional corporate events team here at Panic worked with the fine folks at Regal Cinemas to make movie magic: we bought out and commandeered the 5:00 showing of Borat: Cultural Learnings of America for Make Benefit Glorious Nation of Kazakhstan. It was an admittedly eccentric but amazing movie-going experience — 160 seats filled with 160 treasured and beautiful Panic Friends, Panic Family, and a couple of awesome strangers.
Thanks to everyone who showed up and laughed and laughed and hopefully didn't just hear me laughing and laughing, because really I was getting pretty self conscious, and exhausted, right around the one hour mark.
(Incidentally, laughing non-stop for nearly one hour and twenty four minutes officially closes the book on the
Things I (Was) Looking Forward To
. This year has delivered to me, wrapped in gossamer ribbon and delivered on the wings of forest-dwelling unicorns, so many amazing things of my dreams, both material and
otherwise
... and we haven't even gotten to the Wii yet!)
If you haven't seen the film, I'm not going to talk about it here, other than to say you should probably see it. Don't let anyone ruin it for you, and don't let the mega hype spoil it for you. Tune it out, take an afternoon off, watch it, let me know what you thought. There are layers, my friend, hundreds of comedy layers of a comedy onion, an onion with a rich nougaty thought-provoking core. Eat the filmic onion. Eat it, and enjoy it.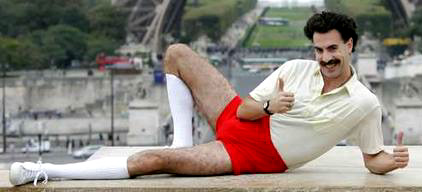 Spoiler breaker!
Post-Film (Spoiler) Notes
As a long-time Borat fan, after a post-film recovery, I was left with so many questions. While part of me wonders what was "real" and what wasn't, the other part doesn't care — it's all comedy, after all, nobody said this was a documentary, and it seemed pretty clear that the setups were probably staged, and the payoffs probably unscripted. Still, I find myself yearning for the release of an inevitable DVD, one that I hope unlocks many stories and secrets with an insightful commentary track and over 725 hours of deleted scenes. Please?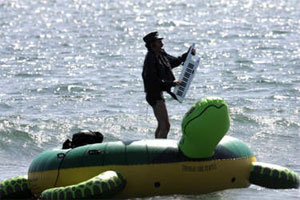 My number one question: what happened to
the much-dissected incident on the beach last year
, with the inflatable turtle and the tackle and the Pamela dog wedding, paparazzi'd last year? I can only guess it was the original ending, but where did it go? Too far-fetched and unbelievable, perhaps? All that seems to remain of it is
Track #13 on the Borat Soundtrack
, which I can only assume was the love song Borat was performing from the surf, complete with ripping keytar solo. (A song written, no less, by Erran Baron Cohen.) This is one we
know
about — can you imagine how many additional lost scenes there may be?
Anyway, here are some post-film links, a look at both the people in the film and at how they make it all happen — all we have until the magical DVD release.