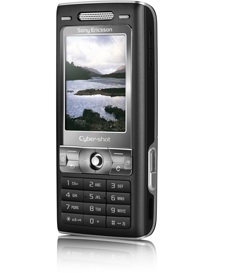 Mobile phone manufacturers are a lot like... hibiscus leaves? Hotel chains? Umm.. zoo animals! Sure! Nokia is like a cotton-topped tamarin, all preened and fancy and slick, but yet there's something about them makes you want to punch them in the face. Motorola's phones are like an giraffe, sleek and impressive from a distance, but rough, gangly, and awkward up close, and then they honk and spit garbage on your pants. Samsung is like a dromedary camel... oh, for goodness sakes, this is terrible.
Here's what I'm trying to say. Until Apple becomes the Apple of Mobile Phones, we have Sony Ericsson.
I've owned a Sony Ericsson phone for at least three cybergenerations, culminating with the new
Sony Ericsson K790a
($499, America-released, available "unlocked" for any GSM carrier). Here's a little bit about it.
Phone nerds only!
Basics
I'm a sucker for a candybar-style phone. The K790a is a little bit bigger and thicker than its predecessor (the k750i), which took me some getting used to in the pants department. The size, though, seems to be necessary: you'll immediately notice the new screen, high-resolution and crystal clear, the additional speaker on the back (no more ear-destroying surprise rings), the better camera phone, and the more comfortable rubbery keypad surface.
I'm using the phone on T-Mobile, which was effortless. Now, you don't really need me to talk about the
phone
part of the phone, right? Sony Ericsson does such a good job with the phone-phone that it's basically not worth talking about. It's a phone. Calls sound fantastic, the phone book and recent calls log is impeccably easy to navigate and customize, the speaker phone is very clear, ring tones can be anything your heart desires.
So, let's look at the extras, the mythical "differentiating factors", shall we?
Great Things
Camera.
When using a cell phone to take a cool picture, I've always felt a little sadness — I knew that the moment would forever be VGA at best. No longer. For general-purpose picture taking, the K790a is like having a solid starter digital camera magically morphed in your pocket. And while I usually dislike "product consolidation", it makes sense here — when you see a picture of a funny sign or a hilarious dog, a pocket cell phone is the perfect medium. To start with, it's a shockingly capable 3.2 megapixel camera. It's got the trimmings: a great macro mode, auto-focus assist light, and an honest-to-goodness non-LED flash. The phone software itself is packed with features — four shooting modes (including BestPic to choose from a sequential series), a self timer, all the necessary controls, a handful of effects and zany picture frames, and the like. Browsing photos also offers a
unique timeline view
. This is a killer pocket camera, and while not necessarily a full-time replacement for a megadigital while on vacation, it's a comforting feeling to have it on you at all times.
Camera Sample Photos.
For your amusement and quality checks, some K790a pictures I've taken:
Real E-Mail.
I'm not a huge mobile e-mail guy. I kind-of like hitting pause every now and then on the Infinite ASCII Game. That said, there are times when it's nice to have a device that allows you to see what Inbox e-surprises lie in wait. The K790a has a surprisingly competent e-mail client — almost shockingly so. And, like the camera, while it's certainly no competitor to a pro setup, it is perfect on-the-go. It supports POP and IMAP. It also adds "IMAP Idle" support, which means two things depending on your server: either the phone stays connected to your server throughout the day and periodically checks and alerts you to new messages (awesome!), or the phone uses the rare IMAP IDLE extension to allow the server to notify
it
of new messages. Both
the message list
, and
reading a message
, are clear and cake. Composing a message, of course, is the biggest, no-keyboard weakness, but T9 predictive text helps tremendously once you've adjusted. Attaching photos (or themes or sounds or whatever) to messages is a piece of cake. (And yes, it supports
IMAP SSL and SMTP passwords
.)
RSS.
Yes, this phone has an RSS reader, built-in.
Set up as many feeds as you like.
Schedule automatic updates so your phone can check while you walk.
Read your headlines in a clear list
. And click a headline to switch to the browser. Pretty awesome, blogaholics.
Real Web Browsing.
Accessible quickly by holding down a dedicated button on the front, the built-in web browser ("Access NetFront") supports HTML 4.01, xHTML 1.0, CSS, Javascript, SSL, etc. And it works — it's a "real" web-browser in an incredibly small package. (See a trend here?) They've tried hard to make the web viewable with a small screen: there's the normal view, a
fullscreen view
, and
landscape view
. You can also turn on "Smart Fit" mode, which tries to reformat the page to eliminate scrolling. Compare for yourself:
Google Smart Fit
versus
Google Regular McScrollerson
. What about Digg? It looks
really goofy in Smart Fit mode
, but
renders perfect in regular mode
. It's slow — complex layout pages take quite a while to load and render (Digg, about one minute) — but simpler pages, like Google, are super fast, about eight seconds. Again, without a keyboard, you won't be participating in any forum flame wars, but I've been impressed with the performance. (And don't forget you can always install Opera Mini, which renders simplified-layout pages in record time — Digg, for example, in only 12 seconds.)
Bluetooth, All The Way.
None of this Verizon crippledycrap. Use the phone as a modem for your laptop. Use it with iSync. Heck, 'tooth over some MP3's onto the phone and use them as ringtones. Even use your phone as a Mac remote control (without even installing extra software). Bluetooth: it's awesome when it's not not awesome!
Feature-Packed.
This phone does more than I can reasonably talk about without breaking my fingers. It's got a radio, an MP3 player, 3D games, lots of organizer functions like an alarm and notepad and calculator, super fancy MMS message composition that I never use, cool but basic photo and music and video editing applications (mobile iLife!), it can print directly to printers, run all manner of Java applications (Google Maps!), and oh so much more.
Awkward Things
Camera Speed.
The camera start-up time is slow. From when you flip open the shutter protector to when you can take a picture, you're probably waiting about 5 seconds, and then the time it takes to auto-focus and snap the picture is a bit longer. For quick photo taking, this is a little less than ideal.
Camera Cover.
On the k750i, the camera cover slid downward. This would cause the camera cover to basically open up every time you removed the phone from your pants. Now, the camera cover slides sideways, which seems like a fantastic improvement, but basically means that the camera cover opens up every time you remove the phone from your pants. I know, right? Who knows how this works out! I'm no industrial designer, but if NASA can teleport Henry VIII direct from his grave in the year 1547 to take part in this year's Super Bowl Half-time Show, I see no reason why they can't invent a good, less-spastic camera cover.
Heft.
This phone will push the boundaries of your pants. It's small overall, but I dearly wish it were thinner. I guess it's all a matter of compromise. Still, at least it's not as chunky as the Side
brick
. LOL SEE I REPLACED "kick" WITH "brick" ROMLROML!! (I'll hear from Steve on that.)
Price.
Yowza.
Cabel's Final Word of Power
If you can handle the hard-core-only high price, this is one of the best most feature-packed mobile phones available today, with fantastic design inside and out. Highly recommended.
(And, of course, now that I bought this phone, Apple should be releasing the iPhone any minute now. Thank me later.)
Bonus: Hot K790a Tips
Getting a K790a? Or just got one? Here are some lukewarm tips!
First-Time Internet Setup.
It doesn't take any work to get your phone up and running — just pop in your SIM card. But setting up the Internet part? Please visit the
Sony Ericsson Online Configurator
. (Is configurator a word?) Visit the page, select your country and your network, type in your phone number, and, after a few minutes, meanmo! Sony Ericsson will magically and remotely configure your phone. It works. Is nice.
Add iSync.
Until Apple adds support natively (keep watching
here
), you'll want to buy this cheap and cheerful
third-party K790a iSync Plugin
that does it all, perfectly. As of this writing, it's literally $2.80.
Use The Bonus Camera Buttons.
Surprise! Those two plastic nubbins to the left and right of the earpiece above the display? Those are actually buttons! Really! Use them to quickly scroll through your shooting modes (left button), or camera scenes (right button), when using the camera. And don't forget that pressing "0" shows you what the other buttons on the phone do while in camera mode.
Discover The Camera Scenes.
Confused at what all the camera scenes do? (I mean, "Document"?) Don't expect the manual to offer any tips. Instead head to Organizer > Applications > Photo Mate, and download the "Scene Selections" help module. Everything you need to know is
contained inside
. Although, weirdly, you download each help section individually.
Update The Firmware.
If you use Settings > General > Update Service to see if your phone has the latest firmware, it will say you're up to date. My friend, it is lying, cruel and uncaring. There have been some impressive firmware updates, which you can
read about here
, but so far you need to use the PC software to get them. Which means you need access to Windows. Hooray, Boot Camp! First, download the
Sony Ericsson PC Suite
, and install the drivers contained within. (You can skip the whole suite if you'd like.) Then, install
Sony Ericsson Update Service
software, launch it, and follow its instructions. It's dead simple. And you get some bonus music and a hideous Flash interface!
Feel free to share your K790a thoughts and hot tips, or your personal favorite phone of the moment, comment-style. Cool!