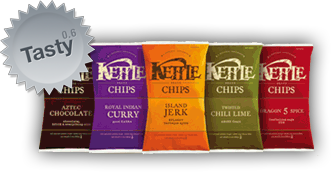 John Gruber is usually right about everything
1
, so I was surprised to see that,
in his recent spot-on post about all things 'Beta'
, he neglected to talk about the one obvious situation when it's absolutely and perfectly acceptable to charge for a beta test of something:
when you're eating potato chips!
In a move that seems almost like a direct effort to strike at the heart of the venn diagram of everything I love and hold dear, Kettle Chips is allowing you, the snack food fan, the rare chance to taste five potential, experimental new flavors of potato chip. Not all of these flavors will make it to the grocery store — most will be forever placed in the dustbin of flavor history.
Let me make this clear:
you will be eating potato chips that most people will never get to eat
. I'm not sure life can go anywhere from there.
They've done this once before, but this time, the flavors are fantastic.
Chili Lime
is perhaps the most unsurprising of the group — it's good and spicy and sugary but we've done this before — while
Dragon 5 Spice
and
Island Jerk
are both extremely complex flavors with interesting and intense spice blends. The
Royal Indian Curry
is honestly one of the best chips I've ever eaten, as a general curry lover. And most importantly, there's
Aztec Chocolate
. That's right, a
chocolate potato chip
, made with actual organic Dagoba chocolate powder, cinnamon, chili.. wow. I can't imagine eating a bag, but I'm glad I got a chance to eat at least one.
While, sure, $20 is a lot for 5 bags of chips, you also get a nice sampler CD of world music (to listen to while eating), and a convenient metal chip clip. But if it's the chip clip that sells you, you shouldn't be ordering.
BETA CHIPS,
people.
You can
order the Passport To Flavor chips right here
. And when you're done, remember to
vote for Royal Indian Curry!
(And no, I don't work for Kettle. I will always, however, promote beta food, no commission required.)
1 Except Interarchy! I kid, I kid!