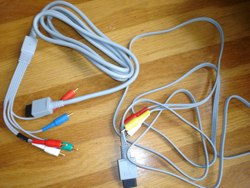 Last night, Nintendo, in some kind of minor miracle, made Wii Component Cables available via their phone ordering system before launch. (Component cables, of course, give us fancy-pantsin' high-falutin' high-definitiin' TV owners the best possible picture you can squeeze out of a Wii — "progressive scan", or a non-interlaced 480 lines of resolution.)
I found out about this breaking news exactly one minute after the customer service number had closed. Helpfully, they let me know that they open at 6:00 AM. Being a giant, giant nerd, and determined to play Zelda in the best visual quality possible (a sentece that qualifies me for said giant nerd status), I promptly set my alarm clock for 6:00. And here I am.
First, an observation: calling them was a nightmare of "all circuits are busy" errors (in all manner of voices and accents), spontaneous busy signals, "please call again later" recordings, and just flat-out lost phone connections. Now, I don't know how robust their phone queue is, but I do know Nintendo consistently makes the argument that an incredibly small percentage of their customers have a high-definition set, and that's why HD was left out of the Nintendo Wii. Based on today's phone adventure, it seems like Nintendo might be underestimating their HD-using audience. Who knows. I guess this is anecdotal at best, but I'd love to know how many get ordered.
Anyway, here's my point. Exclusively for you, wonderful reader.
While on hold,
they announced a website where you can order Wii Component Cables
.
And if you jump on it, you just might snag one pre-launch. And if you try it, let me know how it goes! (Maybe even post your order number, so we can play the 'how many orders' ridiculous guessing game!)
Good luck!
Picture brazenly ganked from the awesome
Chris Kohler
! Thanks Chris, you lucky bastard.