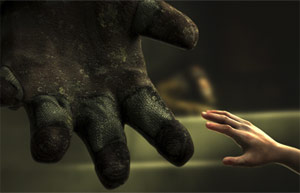 Yes. Bioshock is amazing. You know this already.
There are times when I'd just sit in the corner of a room next to a record player spinning some crackly Billie Holiday, soak in the leaky under-scenery, and listen to the amazing radio messages as they unravel an series of stories with genuine
characters
in the most old-fashioned and new-fashioned of ways simultaneously. Then I'd move about three steps per hour to the next room, eating every candy bar in sight and hacking every camera I could find, self-terrifyingly stalling to avoid what's undoubtedly to come. Talk about the the perfect antidote to my long-standing complaint about the infinite Brown Devil Gun Zombie Space Linebacker Shooters we usually get — please, give us more of this. More points of view. More ideas.
(Besides, who doesn't love a game where a level designer makes a
familiar gaming icon out of moldy old cheese and a handful of bullet holes?
)
All this being said, I almost didn't get a chance to play Bioshock.
Because, you see, I'm now on my fifth Xbox 360.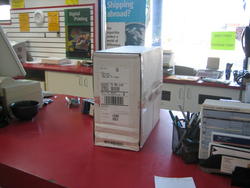 Ready for another trip to the magic land
Xbox #1
— I won this Xbox 360 in the Mountain Dew contest after learning about a quickly-closed loophole in the rules that allowed anyone on Earth to generate lots of free contest entries without having to buy soda and stack the contest odds in their favor.
It eventually broke.
I suspect the loophole, and easy win, ruined my karma forever.
Xbox #2
— This one lasted a little while longer, but eventually games started to completely lock up forcing a hard reboot. On the plus side, the freezing almost felt like a new, extra-challenging minigame built into all games — while playing
The Darkness
, it might have been harder trying to pre-empt and avoid inevitable freezes than it was to finish the game itself. I very eagerly shipped off this box, hoping to get it back before Bioshock.
Xbox #3
— Freshly repaired and just in time, with the brand new heat sink fix for the GPU, I had high hopes for this little guy. But a few weeks into Bioshock madness — terrible news. I turned on the game, and the title screen was filled with gallons of oscillating blue lines, all over the place. Back to the Dashboard, bright colors turned into somber, gray ones. I quickly turned the machine off, took a few deep breaths, turned it on and... nothing.
No video output.
Sound? Fine. Video? Ridiculous! I can't stress this enough:
this machine was manufactured in early August, had the brand new heat-sink "fix", and still died two weeks later.
This is bad! (Worst still, it wasn't technically a "red ring" problem, so it wouldn't have been covered with the newly-extended warranty.)
Xbox #4
— Hoping to start anew, and not wanting to lose any more precious Bioshock-time, I bought a brand new Xbox 360 at Target, a premium with HDMI output. Almost immediately, Bioshock started pausing for extended periods of time in the middle of heated action. Better still, most textures were taking an incredibly long time to load — I'd enter a room, run up to an object, and it would be an unexciting gray blob of polygons. Five seconds later, BLAM! A texture map! Hey, it's a slot machine! Ten seconds later, BLAM! Hooray, a shadow! Thirty seconds later, BLAM! An additional level of detail! While it was honestly a pretty cool effect, I suspected a bum DVD drive, saw a bleak future, and took it back for a quick in-store exchange.
Xbox #5
— Currently working, and keeping the games flowing while Xbox #3 heads back to the repair depot today. Wish Xbox #5 luck, people!
In all honesty, does anyone know how it got this bad? We talk in the office about how an Xbox 360 is like three G5's shrunk down into a small, poorly-ventilated plastic case — surely, using Mac G5's as a reference point, they could have easily predicted thermal issues would be pretty serious? How did this manage to go on for so long? And jokingly-most-importantly, somebody got fired for this, right? I mean, there's a dude, or team of dudes, at Microsoft, who at the very least cost the company
one billion dollars
in extended warranty repairs. One billion dollars! I don't know much about the corporate culture at Microsoft, but that's got to be worth a pink slip or two, right?
I'd love to hear your Xbox 360 repair stories. And I have one request, Microsoft, if you're listening:
Would you kindly fix your console?