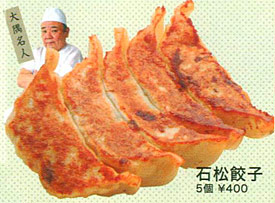 It's been over six months since I took my last trip to Japan, and you know what? It's high time I blogged a story or two about the place. Starting with a magical, elaborately-themed, retro-designed food theme park known by the most deliciously evocative two words ever spoken by mankind: gyoza (or, "potstickers") stadium.
What is it? Well, let me back up a little. You have to understand that I have a particular fondness for weird, dying, low-budget, or otherwise bizarre theme parks / attractions. I've learned that you should always visit these kinds of things when you have the opportunity, because when these kind of places feel like they're not going to last long, they almost certainly aren't. In Vancouver BC, the primary reason we decided to visit the
Storyeum
— a strange kind of "living museum" where a surprisingly large number of actors sing jaunty musical numbers about Canadian history in a series of elaborately designed underground rooms — was that we could smell that magic, musty odor of over-ambition with a dash of eccentric-millionaire from a mile away. Our particular audience for the experience: eight people. The actors out-numbered us, and to their credit, they gave it their all — it was actually pretty awesome, and I learned that Canada is weird. The Storyeum closed late last year.
So when I heard that Namco — or at least a division the video game giant, fond
business partners
of Panic — had their own theme park in Japan, it was an insant one-way ticket on the to-do train in my mind.
And that's before I heard about the gyoza.
Namco's Namjatown
Namjatown, a large indoor theme park in a gigantic 70's indoor mall called Sunshine City in Ikebukuro, was originally built to house Namco arcade games — at least, I think so. The one small clue is a section that is clearly sci-fi themed, with space-station coordiors and space junk and plastic cyber tubes and airlock red lights blinking all up in your face, yet the area contained nothing sci-fi whatsoever — in fact, I think it contained some vending machines. It seems the original attractions had long since left, and Namjatown is working hard to keep up and be flexible, leading to a beautiful kind of bewildering browsing where you, the foreigner, will likely have absolutely no idea what is going on at any given time.
These three movies ought to set the overall tone of the park pretty well:
A large chunk of Namjatown is an incredible "horror zone". What's cool about this is that it's obviously based on classic Japanese folklore ghosts and monsters, which are totally unique, especially for an American dude whose ghostly world view consists of white sheets, chains, and that totally retarded electricity monster that chased Scooby Doo and "hilariously" kept popping out of the drawers of a filing cabinet. The Japanese people around me were really enjoying this area, with weird scary things all over the place, but without any knowledge of the mythology, the area took on a kind of "bonus creepiness" that far exceeded their intentions. Let's just put it this way: we spent a long time debating if we wanted to go on a ride where you wander through a dark maze, getting directions from — really — flashlights that are shaped like freakish crabs, with creepy kabuki mask faces and face-splitting grins. Yes? No? I don't know! Hold me.
When I mentioned to Keita Takahashi — Katamari creator, and subject of my next Japan story — that I was going to Namjatown, he first looked confused, and then laughed out loud. A flurry of Japanese discussion followed, which basically boiled down to one question: "Why?". Namjatown is a very Japanese place. And it is very strange. And totally awesome. Soaking it all in, you realize, somewhat depressingly, that the world is way too big and dense for you to ever process and understand it all: but that doesn't mean you can't have fun trying.
The Gyoza Stadium Itself
All of the bits of Namjatown thus far were a appetizer, leading up to the main event:
Gyoza Stadium
.
It's not a stadium. But imagine, if you will, a very quaint Japanese town in the year 1953. Stone-lined winding alleyways with beat-up posters, tangled wiring, neon signs and lanterns, with classic Japanese 50's music playing from tinny radios.
Now imagine that the street is lined with lots and lots of
tiny little gyoza restaurants
, each serving a
different kind of gyoza invented by a different famous chef
, each unique, and all made to order. And they have beer.
At this point, you're hopefully really hungry.
Gyoza Stadium was Namjatown's first "food themepark", basically an elrboately designed food court, otherwise known as the greatest thing ever invented by mankind. The trend has apparently caught on in Japan, and there are
now quite a few
. Why isn't there more of this in the rest of the world?
We tried about four different kinds of gyoza, including some crazy multi-colored gyoza which were mostly delicious, and a plate of one of the most wonderful things I've ever eaten: ramen noodles with gyoza filling sprinkled on top. Picture below. Now I've made myself hungry.
Check out the magical stadium for yourself:
What's the Cabelclusion? Need a Sassummary? It's easy: with delicious, novelty gyoza, combined with a themed Japanese 50's atmosphere,
Gyoza Stadium is a delicious mind bender
. Very much recommended.
One gyoza anecdote: there is a coveted eating area in Gyoza Stadium, a
classic 50's Japanese living room
, complete with tatami mats, refresh-rate fluorescent lighting, and tiny black and white television showing classic programs. The room opened up, so Nicole and I took our gyoza and beer and
sat down to eat
. Surprise! This will elicit laughter from the locals who pass by, as it is, after some consideration, the comedy equivalent of a Japanese tourist couple sitting in a fully-themed Old Timey Western Salloon on a couple of dirty old wagon wheels eating baked beans and drinking shots of horse-whisky. Which isn't really that funny, but hey — don't worry — use your gaijin power, and enjoy your surreal-meal in a place and time and you never knew!
Download The Menu
Just for you, here's a
Gyoza Stadium Brochure / Menu (3.16 MB)

. Print it out before your trip!
If you're curious about the rating systems used in the menu, Noby is here to explain everything: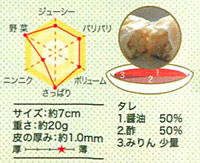 "
Graph (clockwise from top):
Juicy, Crispy (Wrapper), Volume, Oily (lower = oilier), Garlic Amount, Vegetable Amount.
Stats:
Size, Weight, Wrapper's Thickness (Star Chart from Thick to Thin)
Sauce Breakdown:
Soy Sauce %, Vinegar %, Extras
So, this image's gyoza is: juicy, crispy and good volume. It is NOT oily, really light, garlic is also light, and lot of vegetables. Size is 7cm, about 20g. The wrapper is 1mm that is thinner than usual wrapper. In the sauce, 50% soy sauce, 50% vinegar and little dash of sweet sake. Sorry for delay of reply for this important work!!"
Oh, and did I mention they've since added Ice Cream City? Yeah. Really. Browse the menu (2.64 MB)

.
Personal Postscript
For posterity's sake: my girlfriend Nicole came with me on this trip to Japan and, after extensive armpit-drenching planning, on the very same day in which we later went to Gyoza Stadium, we woke up, travelled to Shinjuku, and as the monsoon-level rain clouds
literally
parted, I proposed to her, in a
beautiful park
and by a beautiful pond, and she said yes, while some
cantankerous crows
yelled and elderly Japanese men shuffled by to look at flowers and a American student majoring in "ancient Japanese society" said hello and took our wide-grinning picture. Getting engaged
and
eating novelty food in a crazy theme park? That's my kind of day.
Namjatown is located in Ikebukuro. Take a JR train (Yamanote line, probably) to Ikebukuro, then follow the signs to Sunshine City. Enter Sunshine City and walk for approximately 1600 miles through the mall, before arriving at Namco Namjatown, which I think was on the second floor.