Let me be clear: I have no intention of this becoming a baby pictures blog. That said, I thought it worth noting to you, the cabel.name-interested, that, one week ago, we welcomed the arrival of
Joby Finn Sasser
, our brand new baby boy.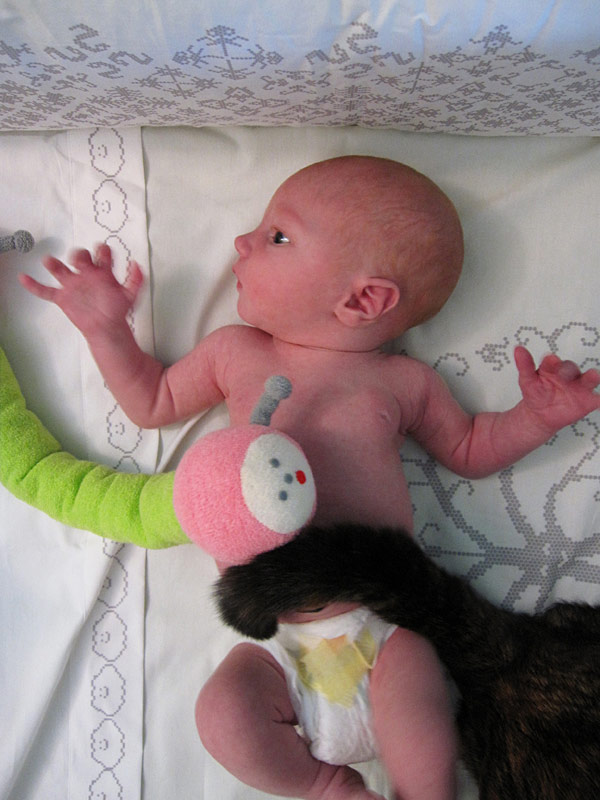 Already awash in the gaming world (which means he'll be a football broker, right?), here he's about to be wrapped up by Keita Takahashi's
Noby Noby Boy
. (And our cat.) This plush Boy was a totally amazing gift from Keita — if you can believe this, it was made by his sister!
Joby also really loves Girl

.
So, yeah, baby time! Red hair!? Really long fingers! Doing awesome, fitting right into our lives. (Also: Nicole is amazing.)
New life! Let's go!
Next time, I swear: Japan Mystery Cafe
It just dawned on me that now, at one week old, Joby Sasser will already have a Google hit to his name — with a baby picture. Will this page still be here when he's 21? Will Google? Joby, if this is embarrassing to future-you, just send your dad a holographic e-mail, but set it to 4D — I probably haven't upgraded to 5D yet.