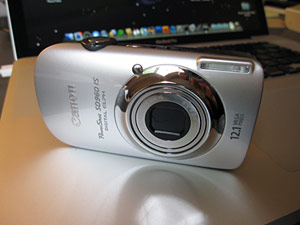 Of the many areas of nerdery I have merit badges in, photography is surprisingly
not
one of them — so my requirements for digital cameras are dead simple. I want a camera that:
Can easily fit in a pocket, comfortably, and isn't hideous looking.
Has a wide angle lens. (My first-ever digital camera had this, spoiling me for life.)
Can record video. I love a pocket video!
Of course, there are smaller wishes: automatic orientation detection, a nice enough UI, good macro lens, SDHC support, etc., but they're all features you'll find on just about every camera in the world. I've also traditionally been a Canon man, always keeping an eye on their new models.
Here's why the new
Canon SD960

is my current favorite digital pocket camera.
Updated UI
It's a minor miracle: Canon updated their UI. It's... not bad! (New on the right.)


Good Looking Photos
It's almost a given at this point, but it takes some sharp looking pictures:
whole set over on Flickr

HD Widescreen Video!
The killer feature, and one that's blown my mind. I know the Flip Mino HD has been available for a while (I've always thought them a little bit ugly and prefer to carry one device instead of two whenever possible) and I'm sure other digital cameras have had HD video for a while, but this is my first experience with pocket HD, and it is amazing and liberating. Maybe it's because Kid Cabel once longingly stared behind the cruel, child-taunting plastic Toys 'R Us display cabinet at the Fisher-Price
Pixelvision
, which recorded laggy, low-speed grain-and-white video to an audio cassette tape (!), old man, etc., but the fact that I can bust a shiny device out of my pocket and record a moment in widescreen and very high resolution onto a tiny memory card that holds many gigabytes and cost, like, fifteen dollars, is flat-out space-age awesome. It won't replace your RED ONE camera, but for a spontaneous video, it's great.
How great? It's H.264 compressed and 1280 x 720 resolution, but you should see it for yourself. Armed with my new camera on a quick relaxing trip to Palm Springs, I decided to use the opportunity to make a sample video. Enjoy:
That's scaled down, too —
click here for the full size 1280 x 720 version (110 MB)

I bet you'd also get the same video quality from the two other new Canon models that shoot HD —
SD780

and
SD970

— but, for my money, the 28mm wide-angle lens of the SD960 seals the camera-buyin' deal.
And that's why I love it. As of this writing, it's
only $299 over at Amazon.

Questions? Do you prefer a Flip? Are those affiliate links OK or tacky? What's your favorite digital camera? Let me know!
Next time: cookie skullduggery!