If you love the internet like I do, you've probably come across this amazing YouTube video, yeah?
Dougsploitation
was the discoverer of this gem, a truly cornball religiouska masterwork purportedly by the band Sonseed. But something about the video seemed so totally awesome — so pitch-perfect goodbad™ — that, in this age of big-budget viral fakes (a little color temperature adjustment here, a little VHS video noise there, and, hey presto, the DORITOS EXTREME SONSEED campaign is ready to roll!), it quickly generated a bit of
controversy
. It also inspired a serious-business
inter-office betting pool

I could only think of one way to win the "fake or not" bet: find a copy of Sonseed's actual 1983 record album. So I did.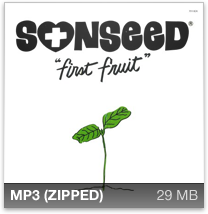 And, Sonseed's First Fruit is now ready for you —
just click the image above to download it.
Enjoy. It's the real deal: an album full of, well, religious 80's music, and, uh, that's pretty much it, leaving little doubt as to the band's legitimacy. If you're an internet completist, you'll probably get a kick out of it. But please note: you've already heard the best song! (Although, to be fair, "Say Yes" is only a few musical degrees away from a Ringo Starr Beatles B-Side.)