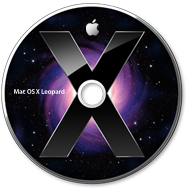 Hooray! Leopard is almost upon us! It's the next great update to Mac OS X, which, to be honest, I'm genuinely excited about, and that you will be probably installing onto your very Mac sometime around exactly 6:04 PM on Friday. Am I rite?
Of course, Panic is all about these things. So, here's a quick Leopard compatibility status update for you!
Here's the big news for today: CandyBar 2, the currently shipping version, actually won't work in Leopard! In fact, it won't even launch, thanks to a (well planned) built-in safety system. But there's some good news from these lemons: the wizards here at Panic and the pixel-pushers over at The Iconfactory are extremely hard at work on the next, major update to CandyBar — that's right, CandyBar 3 is coming soon, and it'll be worth the wait.

CandyBar 3 continues with CandyBar's proven, safe, and easy system icon customization engine: getting a cool trashcan or replacing the new Leopard default folder will be as easy as dragging and dropping. But CandyBar 3 will go even further, with full support for the new mega-sized Leopard icons (up to 512 pixels in size), a number of new Leopard icon types, and significantly more robust icon restoration.

And while we don't normally talk about new features in advance, one piece of CandyBar 3 is just too exciting not to mention. If all goes according to plan, CandyBar 3 will offer the ability to customize some of the look of Leopard's new Dock! Don't quite like the shiny new cyberspace-shelf appearance? Want something a little more opaque? That's what we're here for.

Believe it or not, that's not even the half of it — there are even more secret, shocking features in CandyBar 3 that we'll reveal on launch day. So, any more details? We plan to ship CandyBar 3 before the end of November, and pricing has not yet been determined. Additionally, it's important to note that CandyBar 3 will be Leopard only. (And, while I'm here, this is true for the next planned update to Pixadex, also.) Unregistered users who don't intend to upgrade to Leopard, but want to purchase and use these applications with their current 10.4 system, should purchase right away. In other words, CandyBar 2 will be effectively discontinued upon the release of CandyBar 3.

I think that covers it! Thanks for your patience while we prepare this major update!


The currently shipping version of Transmit, 3.6.1 as of this writing, works mostly great in Leopard — with the exception of one or two surprise issues (one of which is related to editing text files internally) that we discovered late in the Leopard cycle. We're working very hard to fix them as I type this! Keep an eye out for a Transmit 3.6.2 to arrive in the near future, and make sure you're always using the latest version of Transmit for the best possible Leopard experience.


All clear! The currently shipping Coda, 1.0.5, will work great in Leopard. There are a few additional Leopard-related visual and detail tweaks we want to make in the future — including some changes to a certain toolbar — so we'll continue to improve our Leopardness through future point releases. But, for now, things should work just fine.


Also good news: as far as we can determine, Unison 1.8 should work just fine in Leopard. Again, make sure you're using the latest version!


In the best possible news department: Stattoo and Desktastic and Pixadex 2 (remember, Pixadex 3 will be Leopard only) should all generally work fine in Leopard — with no work on our end, no less. And should something pop-up unexpectedly, do let us know, and we'll do what we do.


(Of course, all of this news is somewhat speculative, as we haven't gotten our grubby mitts on the final shipping version of Leopard yet — this is particularly critical in the case of CandyBar, to test and adjust for the many changes that are specific to the final build. Thanks for understanding should things on this list change — we'll definitely stay on top of it!)
And that is that! Enjoy Leopard! And thanks for using Panic brand software!