So, we're in Japan, and we've just stepped off the train in Kashiwa, a very nice town in Chiba which also happens to be the home of Panic's Japanese HQ, which itself happens to be essentially a cozy apartment, which reminds me of Panic USA 1.0, except Noby and Kenichi don't
live
in the apartment, and the apartment is in Japan.
Anyway.
Noby wasn't there yet, so we wandered around the station a little bit, enjoying the good weather and banking on Cabel's First Rule of Japan: if you wander around
anywhere
in Japan for a little bit, you will come across something interesting. (This is also Cabel's First Rule of Everything.) So we came across something interesting: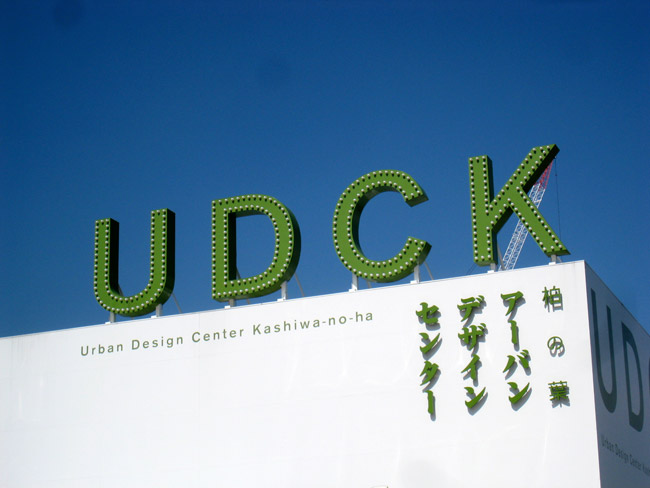 ...which despite have a semi-unfortunate acronym, was a collection of elegant, architecturally-cool buildings, possibly part of a temporary exhibition to excite the citizens of Kashiwa, with a nice wooden deck with some inviting café tables.
We sat down to catch a break.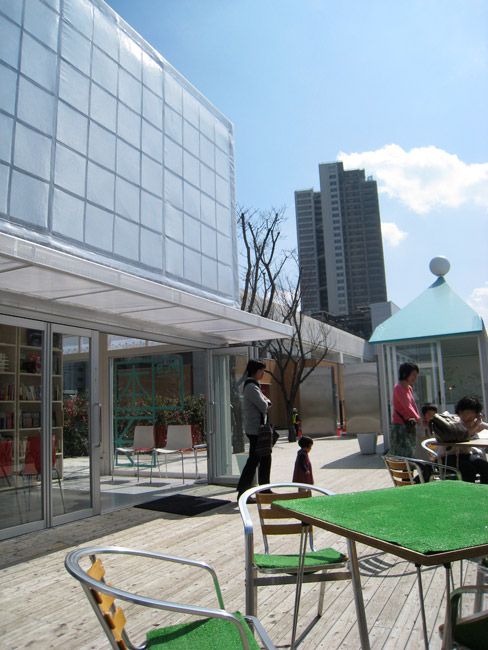 A few seconds later, I heard some halted English coming from my left.
"Hello! Please come here!"
This was unusual for Japan, because although most Japanese city centers seemed to be filled with hundreds of unregulated and overdriven speakers, I've rarely, if ever, been beckoned in English and in person. It caught me off guard. I wandered over.
The cashier fumbled for the right words.
"Please... buy something!"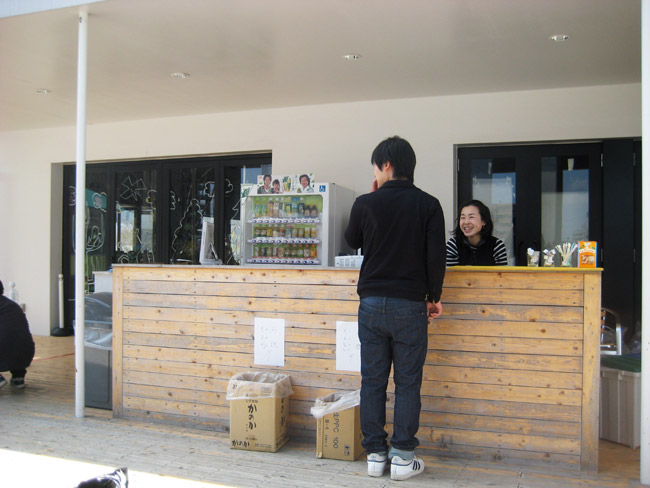 OK, this was confusing, because up until this point nobody in Japan has ever outright asked — let alone strongly suggested — I buy anything, ever. In some regions of China, for example, it's normal to be followed for blocks by plucky street vendors, with sooty caps and using the Chinese word for "guv'nor" (省长), trying to sell the hapless tourist genuine 24k goldique watches, small angry turtles, expired pudding, Steely Dan CD-R's, and the like. But simply doesn't happen in Japan — just like it also probably doesn't happen in China either because I've never been there and this entire paragraph is based only on bad movies and stereotypes.
While I was a little uncomfortable, I didn't want to be rude. I grabbed a café menu, quickly translated some Katakana (you'll get surprisingly far in Japan by learning this phonetic alphabet!), and found something I kind-of almost.. but not really.. wanted.
"I'll take an orange juice, please," I explained, in poor Japanese.
"Hai!", was the eager response.
A few moments later, I picked up my orange juice.
Except it wasn't an orange juice.
It was an apple drink called "Appletizer", some weird candy, and a little card.
Yeah. Now I was confused.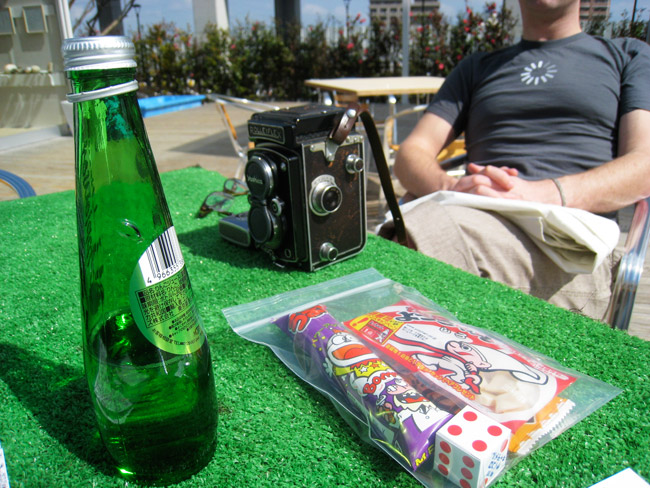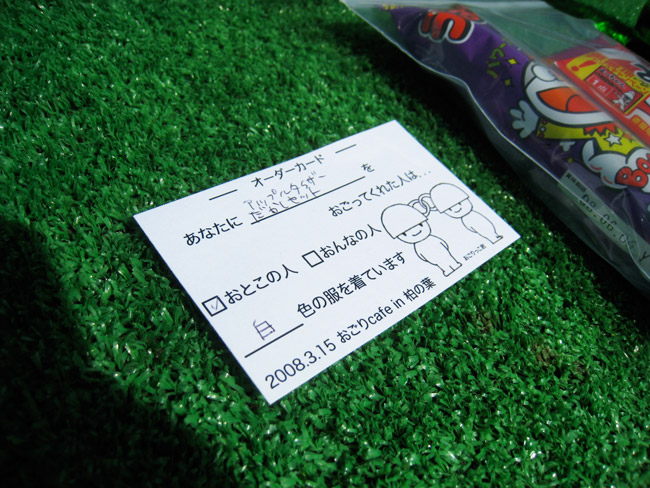 The guys behind the counter and I immediately launched into a humorous, protracted, Englishanese attempt to understand what the hell just happened. Through judicious fumbling, and after a great deal of precise hand-waving and mangled pronouns, it turned out to be something like this:
At this cafe, you get what the person before you ordered. The next person gets what you ordered.
Welcome to the Ogori cafe!
As I sat down to enjoy my surprise Appletizer, loving this insane idea and wondering what would happen if you tried it in America, a Japanese woman approached the cafe. Since she could actually speak Japanese, she could read the large sign at the front and, fortunately or unfortunately, got advanced warning of what she was in for. Before making a final decision on what to order, she quietly snuck up to me to try to ask me what
I
had ordered, knowing that it would be her unwavering refreshment destiny. The staff put a quick stop to her trickery, and I didn't answer.
Of course, regardless of what she ordered, she got the orange juice I ordered a few minutes earlier. But here's one of the moments that make this experiment cool: she actually
chose
orange juice, just like I did. So she got what she wanted. Ogori cafe synchronicity!
Before we left, there was one last thing hat had to be done.
Mike went up to the cafe, slapped down a couple thousand yen (~$25), and ordered a little bit of everything: some ice cream, some snacks, some candy, some drinks, a Japanese horn-of-mysterious-plenty intentionally set up as a shocking surprise for the next lucky customer. (After his order, Mike received single iced coffee.)
As we walked away from the cafe, with just the right amount of delay, we heard an extremely excited "arigato goazimasu!! thank you so much!!" yelled in our direction, from an ecstatic mom and her equally excited young son. They truly appreciated the surprise.
It was so worth it.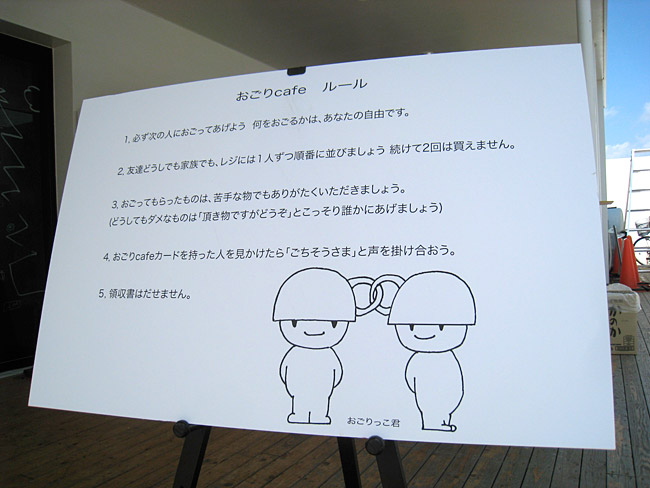 For the record, here are the rules of the Ogori cafe:
Let's treat the next person. What to treat them with? It's your choice.
Even if it's a group of friends or a family, please form a single-file line. Also, you can't buy twice in a row.
Please enjoy what you get, even if you hate it. (If you really, really hate it, let's quietly give it to another while saying, "It's my treat…")
Let's say "Thank You! (Gochihosama)" if you find the person with your Ogori cafe card.
We can't issue a receipt.
The Ogori cafe was an unforgettable travel moment, and an idea that has stuck with me: It was a complete surprise in our day. It encouraged communication between total strangers or, in this case, members of the Kashiwa community and a couple of weird guys from Oregon. It forced one to "let go", just for a brief moment, of the total control we're so used to exerting through commerce. It led you to taste something new, that you might not normally have ordered. It was a delight.
Then, according to Noby, as quickly as it appeared, the Ogori cafe was gone.
Next time: The Best Fast Food Receipt In The World